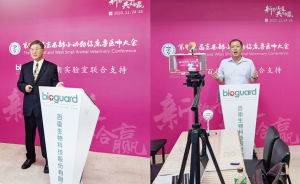 The 12 th East and West Small Animal Clinical Veterinary Conference will be made available online, in partnership with Bioguard Corporation on November 24-26, 2020.
Due to the current pandemic, the invited veterinary experts in Taiwan decided to impart their recorded lectures in one of the biggest conferences for small animal veterinary. With this, preparations are being made with the support of Bioguard. The company hosted the recording of the lecturers .
Well-known veterinary specialists and experts will be participating. This is the first time that the said event will conduct simultaneous exhibition in China while holding virtual lectures. The event is aiming to build a platform of science and technology communication for small animal veterinarian, to facilitate the continuous education development for small animal veterinarian, promoting small animal clinical veterinary technology with international standards, and enhancing over- all level of Chinese small animal veterinarian.
With a lot of participants all over the world, the recording has started with all the necessary preparations. The Bioguard is happy and proud to be part of this huge event and to support the veterinary industry.