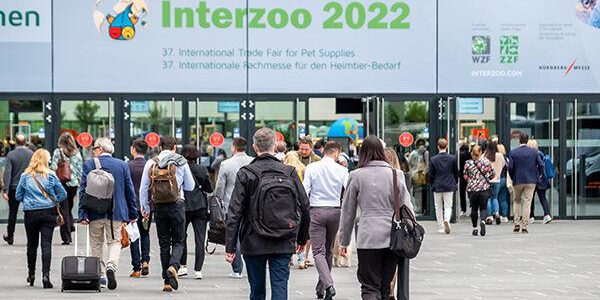 A survey about the pet trade fair revealed satisfaction amongst attendees.
According to a survey from Interzoo 2022, held in Nuremberg this past May by Wirtschaftsgemeinschaft Zoologischer Fachbetriebe GmbH (WZF), more than 90 percent of survey respondents reported planning to attend the show again. The pet industry trade fair attracted 27,861 trade visitors from 129 countries and 1,328 exhibitors from 59 countries.
Other survey highlights include:
Amongst exhibitors, 95 percent were satisfied or very satisfied with the overall success of the event; More than 94 percent of exhibitors achieved their specific trade fair objectives.
96 percent of exhibitors were pleased with the quality of trade visitors at their stands; 97 percent of exhibitors reached the most important target groups for their products or services; 96 percent made completely new business contacts, and nine out of ten exhibitors believe that the trade fair will result in new business.
Most international visitors came from Italy (1,653), followed by Spain (1,174), the Netherlands (1,089), and Great Britain and Northern Ireland (1,060); 966 trade visitors came from France, and 958 came from Poland; Germany was represented with 7,698 attendees.
Compared with the previous years, more trade visitors from larger companies with more employees visited Interzoo 2022; The percentage of online sellers (15.2 percent) was also much higher (2018: 8.8 percent).
Nearly all trade visitors (98 percent) were satisfied or very satisfied with the general offering; 98 percent of trade fair visitors said that the information and contact opportunities at the trade fair met their expectations; 96 percent of visitors deemed it to be a success, and almost all of them (97 percent) said: "I benefitted from Interzoo."
More than 50 start-ups drew attention at the Sponsored Pavilion and the international Start-up Area in Hall 11; The "Fresh Ideas Stage" offered for the first time at Interzoo 2022 gave an added boost to many market entrants.
"It was plain to see that the international pet industry made the most of the long-awaited industry platform Interzoo to present its latest products and services to the trade community and establish new sales partnerships," said Norbert Holthenrich, president of Interzoo's honorary sponsor, the German Pet Trade & Industry Association. "The positive atmosphere and the still extremely high percentage of international visitors (72.5 percent) confirmed Interzoo's status as the world's leading trade fair."
The next Interzoo will be held in Nuremberg from Tuesday, May 7 to Friday, May 10 2024.
[Source: Pet Business Staff]