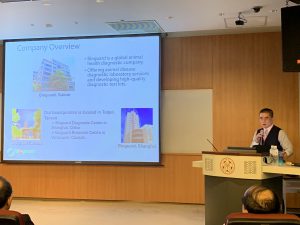 On Friday, October 25th, Bioguard President Edward Lai presented at Nanobiosensor for rapid detection workshop in product display.
During his presentation, Mr. Edward gave an overview of the global market of companion animal health and some Bioguard accomplishment during the past years.
He highlighted the fact that the market of companion animal health will continue to grow.
He also talked about the diagnostic market in the companion animal health
"Due to the rising companion animal population, increasing demand for pet insurance, and the growth in the number of veterinary practitioners in developed countries, the growing demand for rapid tests and portable instruments for point-of-care services are expected to offer potential growth opportunities for market players in the coming years." Concluded President Edward Lai.