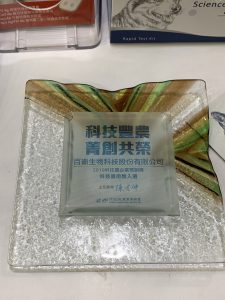 Bioguard has been awarded at the Agribusiness Science & Technology Innovation Award Ceremony on the 20th December 2019, as for being among the top finalists of the event.
It is an activity organized by the government in the idea to encourage agricultural enterprises to actively engage in agricultural technology research and development and apply technology to the agricultural industry.
Bioguard was proud to participate at the ceremony and glad to meet with all the previous winners of the event,
Bioguard thanked everyone who took part in the event, we will continue to work hard to be always among the top of Science and Technology Agricultural Enterprises in Taiwan.