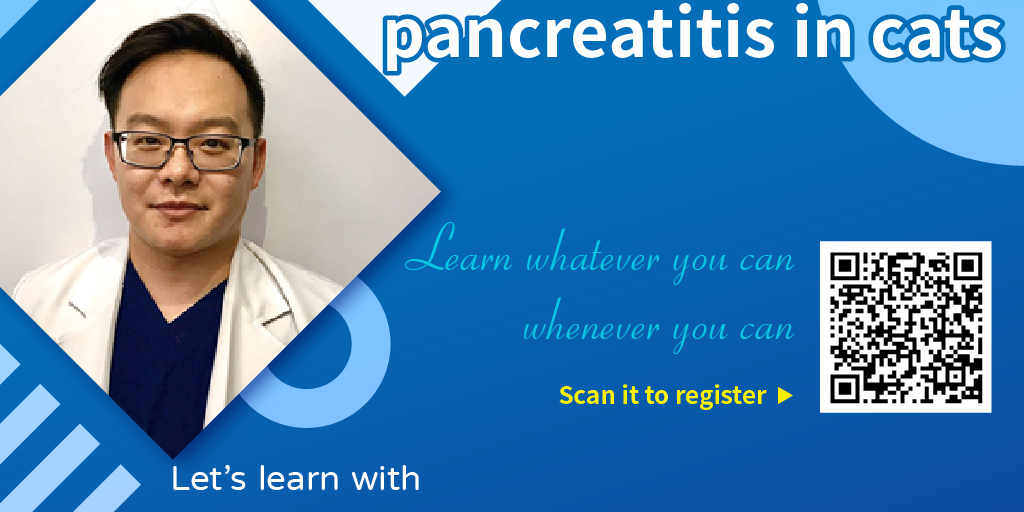 The free class "Continuous learning with Bioguard" theme for this month will be conducted on June 29, 2022, hosted by Dr. Hung-Shi Chiou, DVM, MVM, DCSVP.
Dr. Chiou has obtained his Master's degree in Veterinary Medicine (M.V.M) from the National Taiwan University, Taiwan, and Doctor of Veterinary Medicine (D.V.M.) from the National Pingtung University of Science and Technology, Taiwan. He has expertise in veterinary pathology, zoo animal pathology, domestic animal disease, and comparative pathology. He possesses solid and ample academic and industrial experience. Currently, he is working as a veterinary pathologist at Animed Co., Ltd (Taiwan).
In this webinar, he will be focusing on the diagnosis and treatment of cat pancreatitis based on the ACVIM consensus statement. Pancreatitis in cats is commonly diagnosed, still presents many diagnostic and management challenges. Pancreatitis is amenable to antemortem diagnosis by integrating all clinical and diagnostic information available, and recognizing that acute pancreatitis is far easier to diagnose than chronic pancreatitis. Although both forms of pancreatitis can be managed successfully in many cats, management measures are far less clearly defined for chronic pancreatitis. Management of pancreatitis in cats remains challenging and definitive treatments are currently unavailable. Accurate diagnosis of pancreatitis in cats requires the integration of history and clinical findings, diagnostic imaging, laboratory data, and potentially cytology or histopathology. Depending on the clinical findings in an individual cat, additional diagnostic tests to rule out other differential diagnoses may be needed. Management of acute pancreatitis involves treatment of potential causes, fluid therapy, analgesics, antiemetics, nutritional support, and other symptomatic and supportive care as needed.