Source: Vet Med Sci. 2013 Oct;75(10):1367-9. doi: 10.1292/jvms.12-0482.
A 12-year-old, intact female Satsuma dog was referred to the Kagoshima University Veterinary Teaching Hospital due to skin lesions. Clinical symptoms include erythema, crusts and desquamation on the truck, papules and erosions in the pinnae, and multiple areas of skin necrosis on the right forelimb. Treatment with systemic antibiotics and prednisolone did not improve the observed symptoms. The dog also had progressive anemia. Babesia gibsoni was detected in the blood via PCR during its second visit, and the dog was treated with antiprotozoal agents. Though the cutaneous lesions and anemia improved, skin lesions relapsed after the treatment was discontinued. Histopathological examination of skin biopsies revealed findings suggestive of early leukocytoclastic vasculitis or ischemic vasculopathy…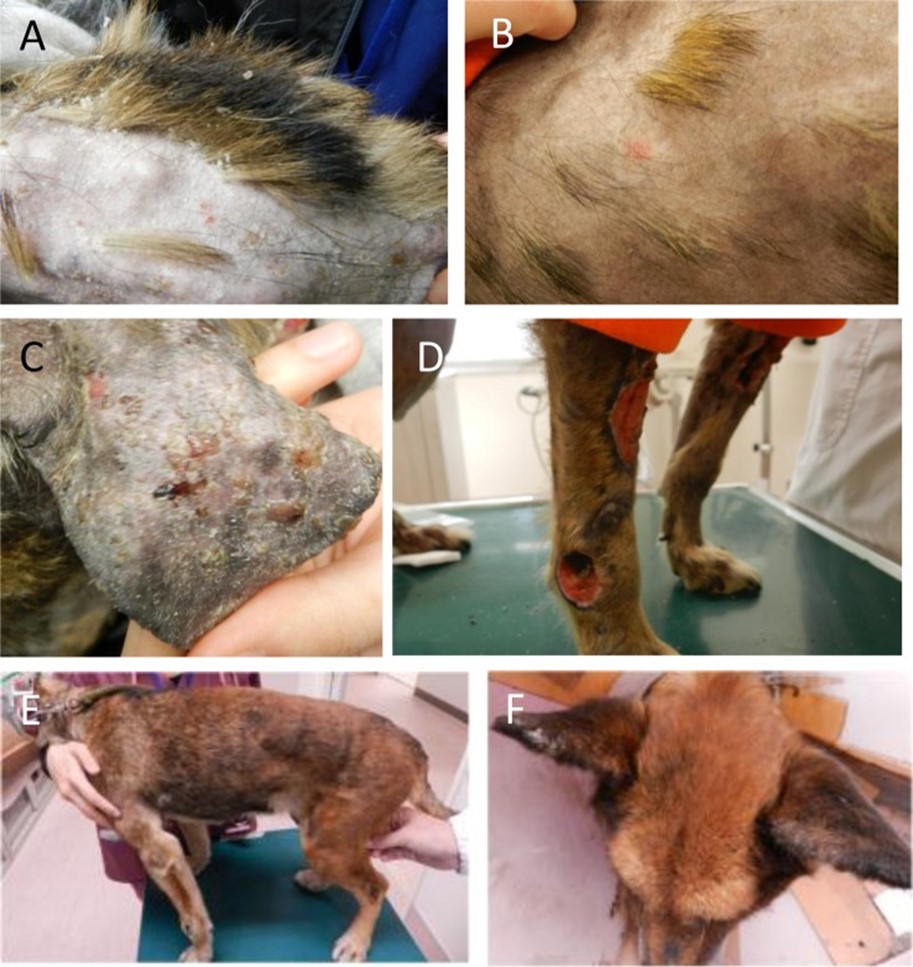 Fig. 1.
A–D: Appearance of the dog on initial presentation. A: Alopecia, scales and desquamation in the lumbar area. B: Alopecia and erythema on the trunk. C: Erosion and crusts in the pinnae. D: Cutaneous necrosis on the right forelimb. E, F: Appearance during remission after approximately 2 months of antiprotozoal therapy. E: Alopecia and other skin lesions on the trunk are improved, and the hair color changed from light brown to dark brown. F: Erosion and crusts disappear in the pinnae.

Fig. 2.
Histopathological sections of affected skin. A: Lower magnification showing perivascular infiltration of inflammatory cells in the middle portion of dermis. Edema and intense extravasation are seen in the superficial dermis. B: Higher magnification of A showing infiltration of neutrophils into the vessel walls and perivascular area, and fibrin deposition adjacent to the blood vessels.