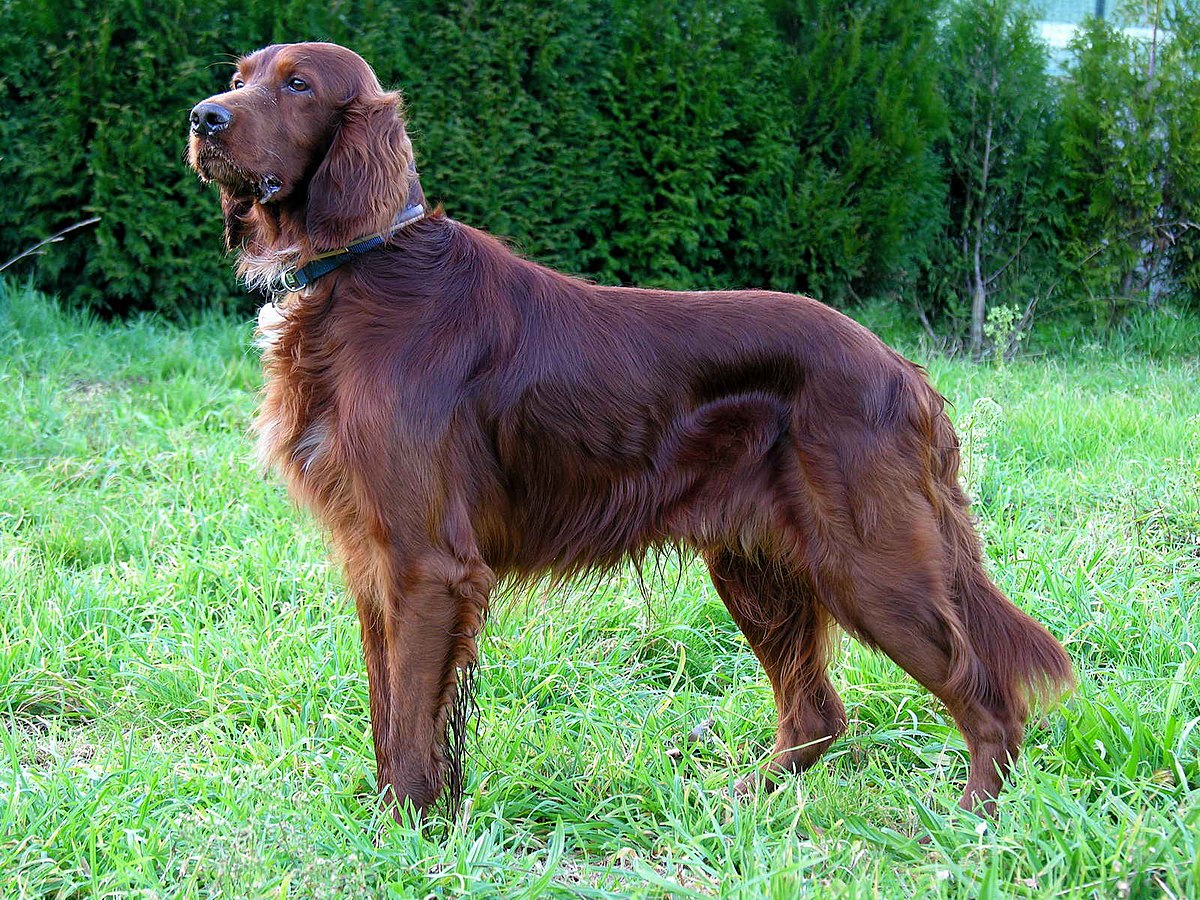 The Irish Setter is a setter, a breed of gundog, and a family dog. The term Irish Setter is commonly used to encompass the show-bred dog recognized by the American Kennel Club as well as the field-bred Red Setter recognized by the Field Dog Stud Book.
It's not surprising that this handsome redhead comes from Ireland, which is famous for fine and beautiful dogs. The Irish Setter appears to have been developed there in the 18th century, probably the result of combining English Setters, spaniels, pointers, and Gordon Setters.
Those first Irish Setters were sometimes called red spaniels — a clue to their heritage, perhaps — or modder rhu, Gaelic for "red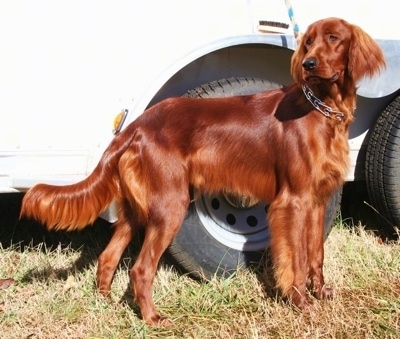 dog." Often, they were white and red instead of the solid dark red we see today. Some, described as "shower of hail" dogs, had red coats sprinkled with small white spots. The Irish Earl of Enniskillen may have started the fad for solid red dogs. By 1812, he would have no other kind in his kennels.
Here are some of the most common diseases for Irish Setter
Bloat
Gastric Dilatation and Volvulus, also known as GDV or Bloat, usually occurs in dogs with deep, narrow chests. This means your Setter is more at risk than other breeds. When a dog bloats, the stomach twists on itself and fills with gas. The twisting cuts off blood supply to the stomach, and sometimes the spleen. Left untreated, the disease is quickly fatal, sometimes in as little as 30 minutes. Your dog may retch or heave (but little or nothing comes out), act restless, have an enlarged abdomen, or lie in a prayer position (front feet down, rear end up).
Allergies
In humans, an allergy to pollen, mold, or dust makes people sneeze and their eyes itch. In dogs, rather than sneeze, allergies make their skin itchy. We call this skin allergy "atopy", and Setters often have it. Commonly, the feet, belly, folds of the skin, and ears are most affected. Symptoms typically start between the ages of one and three and can get worse every year. Licking the paws, rubbing the face, and frequent ear infections are the most common signs.
Neurologic Problems
Several neurologic diseases can afflict Irish Setters. Symptoms of neurological problems can include seizures, imbalance, tremors, weakness, or excess sleeping.
A genetically linked neurological condition that could occur in your Irish setter causes a wobbly, drunken gait. This condition, known as wobbler disease or wobbler syndrome, happens because there is a narrowing of the vertebrae in the neck, which pinches the spinal cord and associated nerves.
There are three types of seizures in dogs: reactive, secondary, and primary. Reactive seizures are caused by the brain's reaction to a metabolic problem like low blood sugar, organ failure, or a toxin. Secondary seizures are the result of a brain tumor, stroke, or trauma. If no other cause can be found, the disease is called primary, or idiopathic epilepsy. This problem is often an inherited condition, with Irish Setters commonly afflicted. If your friend is prone to seizures, they will usually begin between six months and three years of age.
Bleeding Disorders
There are several types of inherited bleeding disorders which occur in dogs. They range in severity from very mild to very severe. Many times a pet seems normal until a serious injury occurs or surgery is performed, and then severe bleeding can result. Irish Setters are particularly prone to some relatively rare diseases of the blood.
Source:
https://douglasanimalhospital.com/client-resources/breed-info/irish-setter/
Photo credit : https://www.dogbreedinfo.com/irishsetter.htm
https://en.wikipedia.org/wiki/Irish_Setter