John K. Rosembert
The Chihuahuas are the world's smallest dog breed, and they're named after the Mexican state of Chihuahua. There are two varieties of Chihuahua recognized by t he AKC– the Smooth Coat (short-haired) and the Long Coat (long-haired) . Both the Smooth and the Long Coats have their special attractions and are equally easy to keep clean and well-groomed.
It is a good companion dog. Courageous, extremely lively, proud and adventurous, they enjoy affection. Brave, cheerful and agile, Chihuahuas can be strong-willed without proper human leadership. They are loyal and become attached to their owners.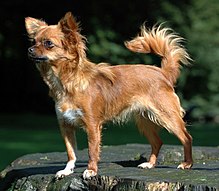 For some, they may be slightly difficult to train, but they are intelligent, learn quickly, and respond well to proper, firm but gentle training. Do not let the Chihuahua get away with things you would not allow a large dog to do (Small Dog Syndrome), such as jumping up on humans.
The Chihuahua may be just right for traveling around in a puppy purse, but they are not a good for house with children under the age of eight (8) because of their small size, and also they tend to be high-strung and prone to nipping, snapping and even biting when frightened or threatened, or when defending his people or territory.
Chihuahuas are prone to certain health conditions. To help you be more aware and prepared for these potential ailments, we have put together information on the health issues that we see the most in Chihuahuas:
Epilepsy: is a brain disorder that results in seizures or fitting. (It is likely the Chihuahuas can suffer from conditions that affect the brain, spine and some nerves)

Tracheal collapse: a dog's respiratory system runs from the nose to the air sacs in the lungs. Any part of this system can become diseased. Tracheal collapse, for example, is a common cause of airway obstruction in small breeds such as Chihuahuas. The trachea ( or windpipe) is a tube made up of sturdy rings of cartilage through which air is transported to and from the lungs when the dog breathes. Sometimes the tracheal rings begin to collapse, and the air is squeezed through, resulting in a characteristic honking cough.

Heart disease: Chihuahuas are particularly prone to valve disease, which often leads to heart failure. Early diagnosis of heart problems is key because if they progress to the "heart failure" stage, treatment will then be needed for the rest of the dog's life.

Legg-Perthes disease: Legg-Perthes disease causes disintegration of the 'ball' part of the hip joint. It is commonly seen in younger, small breeds of dogs like the Chihuahua. Treatment involves rest and control of arthritis or surgery to remove the damaged part of the hip.

Dislocating kneecap: a relatively common condition in Chihuahuas and other small breeds, dislocation happens because the alignment of the bones from the hip through the knee to the ankle is not straight, which pulls the kneecap to one side.
Sources:
https://www.dogster.com/dogs-101/chihuahua-dog-breed
https://en.wikipedia.org/wiki/Chihuahua_(dog)
https://www.petplan.co.uk/pet-information/dog/breed/chihuahua/
http://www.vetstreet.com/dogs/chihuahua
Photo credit: https://en.wikipedia.org/wiki/Chihuahua_(dog)